Industrial CANDommercial Pressure Boosting System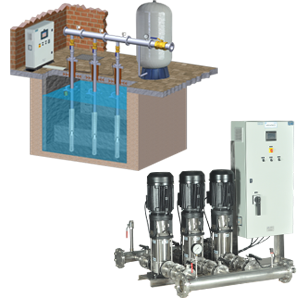 Industrial CANDommercial Pressure Boosting System
Product Description
Industrial & Commercial Pressure Boosting System:
Operating Conditions:
Flow range: Up to 457 m3/h
Pressure range: 0.7 to 26.4 kgf/cm2 (10 to 375 psi)
Ambient temperature: 0oC to +45oC
Water pH: 6.5 - 8
Applications:
Lubi Subpack 1000 booster sets are designed for the transfer and pressure boosting of clean water for community water supply, apartment complex, hotels, hospitals, industries, commercial buildings, schools, bungalows et
Features:
Since submersible pumps are used on the Subpack pressure boosting system there is no priming requirement or requirement of costly mechanical seals for the pumps. The entire pressure booster system reliability is increased against a similar system of surface mount pumps due to this feature. There is no problem associated with foot valve leakage and mechanical seal leakage and system failure and damage to the pumps due to dry running is eliminated.

All pumps are of stainless steel 304 construction which has the following advantages. Operating energy costs are very low due to state-of-theart hydraulic design and usage of stainless steel 304 sheet metal which offers a very low coefficient of friction. Stainless Steel 304 offers wear and corrosion resistance. This also provides a hygienic water supply system for human consumption and also offers a very long life for the pumps. The motors used with the pumps can also be stainless steel 304 at additional cost.

Since all the pumps are installed in the water tank this system saves floor space which in turn is beneficial to the customer especially in metro cities where floor space costs are very high. Since all pumps are operating inside the water tank there is no noise or vibration of the pumps and hence offers a quieter installation. The Subpack system is designed so that any single pump can be removed with ease and serviced while the system operation is not affected while the pump is being serviced. This offers a high degree of system uptime to customers.
Contact Us
308, Bhaveshwar Arcade, Opposite Shreyas Cinema, L.B.S. Marg, Ghatkopar (West), Mumbai, Maharashtra, 400086, India
Phone :+918045478396